[display-name-category]
[post_author]
[wtr-time]
As a new year approaches, you might find yourself rethinking your marketing efforts to navigate a time full of uncertainty. Truth be told, nobody can predict the future, and nothing is set in stone, but that does not mean you shouldn't be prepared.
In this blog, we are not trying to predict but rather share some valuable digital marketing trends and insights that could help you set your 2023 goals and strategy. We know marketing is ever-changing; therefore, understanding the consumer mindset in the year ahead is key to mapping out a winning strategy.
Social Media Value at an All-Time High
Traditionally, most people started their shopping experience on Google or Amazon; However, the game has changed. According to recent data shared by Google, nearly half of young people use TikTok or Instagram instead of Google Maps or Search to look for answers.
If you are currently not investing in social media efforts or it is not part of your main digital marketing strategy, this is a call to reconsider. Social media is becoming an even greater source for users to find products and receive a better customer experience, especially among a younger audience. 2 billion people purchased on social platforms in 2021, and this is growing 3x faster than traditional eCommerce.
For your 2023 marketing strategy, focus on creating a trusted shopping experience, as this is the main barrier for consumers to shop through social media. Additionally, take the time to research what motivates your audience to use different social media channels so your brand has a presence where it is most likely to bring a return on investment.
Protect Privacy While Driving Performance
As the global regulatory landscape continues to evolve, advertisers need to ensure that their measurement solutions balance user privacy with marketing performance and precision. Having a measurement plan for 2023 in a cookieless world is a true challenge. Are you ready for it?
We highly recommend updating to the latest version of analytics; for example, Google Analytics 4 uses machine-learning technology to surface new insights and make predictions. If you're still using outdated analytics technology, you risk missing out on the benefits that new sophisticated modeling can bring to your business.
Also, enhanced conversion can improve the accuracy of your conversion measurement as it supplements your existing conversion tags by sending hashed first-party conversion data from your website to Google in a privacy-safe way.
In a nutshell, your 2023 should be about preserving, enriching, and strengthening your measurement strategy.
Drive Sales Through Trust
With the looming cloud of a recession and crises around the globe, consumers start losing confidence in their financial situation and start cutting and re-prioritizing spending. But even though every crisis brings challenges, there are lessons we can learn from past downturns to understand how consumers might behave in the future.
As consumers lose confidence, brands that build trust with customers become a much safer bet.
As part of your 2023 marketing and sales strategy, you should prioritize building trust and direct relationships with your audience, innovating while keeping high quality in your products or services, and driving empathic, value-add messaging focusing on the person behind the product.
Moreover, we know from previous experiences that products and services can quickly shift from essentials to treats in consumers' minds. GWI sheds some light on those categories that look set to make it into the consumers' "treat" list in 2023. Clothing, food delivery, and electronics take the lead.
The Other Side of the Coin
As marketers, we need to tweak our approaches depending on our target audiences. When people are more thoughtful about their purchases and money spending, there is an audience you should watch, "Impulsive Buyers".
Yes, this group is the other side of the coin; most of them are young. 41% of Gen Z and millennials make an impulse purchase online every 2-3 weeks, rising to 48% among daily TikTok users (GWI). Younger consumers impulse buy for a wider range of reasons, like recommendations from their online community or flexible payment options. So it is important to keep in mind the digital marketing trends that drive this younger generation to buy to adjust your 2023 marketing strategy.
Rethinking Demographics
Going back to the topic of trust and social influence, 66% of brands say that their community has led to increased loyalty (GWI). In 2023, consumers could be reimaged as communities based on a more human, modern frame. Think of it; if you want your business message to be spread widely, it is much more likely to spread through a community than it is among people who simply look like each other.
Therefore, in 2023 we invite you to rethink your audiences as communities instead of only demographics. Think about their values, interest, and mindset and take the time to research and understand your audience and the community they belong to, and make the most out of these digital marketing trends.
Visual Search Growth
This year Google announced some updates to how users will be able to search moving forward, with Multisearch, a new way to search using images and text simultaneously. So what does this mean for the future, and how can you create a plan having these digital marketing trends in mind?
Google wants advertisers to be able to connect with customers in more natural, intuitive ways through AI; therefore, start thinking beyond just text; think about keywords+images. Create intuitive experiences by using more compelling image assets that bring ads to life; this means investing in high-quality images of your products.
This new way of searching goes hand in hand with Google's support of broad match usage as searches will likely become broader because the goal is for users to be able to screenshot a stylish orange dress and add the query "green" to find it in another color, or snap a photo of a dining set and add the query "coffee table" to find a matching table, as explained by Google. Therefore, you can test out broad matches to unlock new potential search queries that might be useful for your campaigns.
Value-based bidding allows you to bid on what matters, so consider implementing it as part of your strategy.
You can also check out this video for additional digital marketing trends related to Google.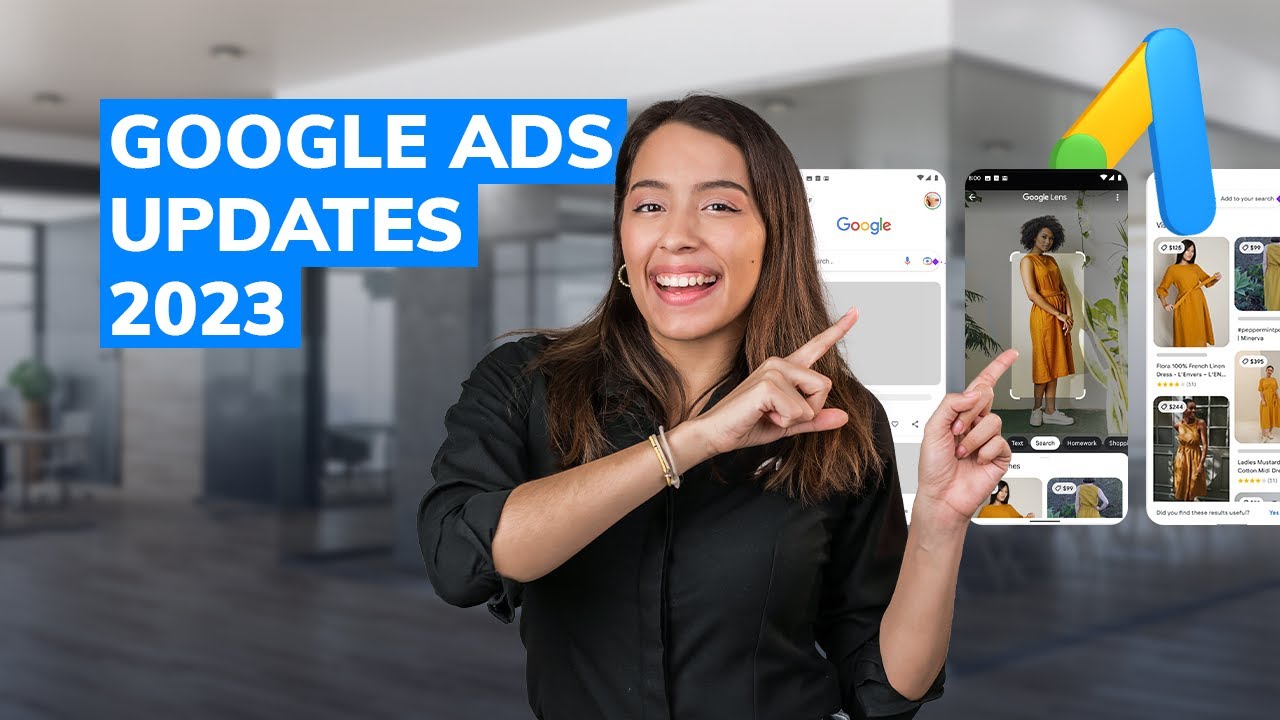 Stay Positive!
We don't know what this new year will bring, but past years have certainly prepared us to navigate uncertainty and become more resilient. Don't wait until the clock marks the beginning of a new year; start mapping out your 2023 marketing strategy now. Consider an omnichannel approach and create a strategy that is diverse, inclusive, and connected to real needs.
If you want to learn more about digital marketing trends such as the ones mentioned in this blog, make sure to subscribe to our blog.