[display-name-category]
[post_author]
Anyone in PPC account management knows that one of the crucial optimization points to implement is A/B ad testing to keep pushing the limits of the benefits of PPC advertising.
Yes, it takes thoroughness to A/B ad test; however, taking the time to dedicate towards it will help acquire data to support optimization efforts and measure PPC advertising effectiveness.
The acquisition of a team of experts to handle your PPC ad strategy can support you with the benefit of a consistent A/B Ad testing strategy to increase sales for your business.
What is A/B Ad Testing?
Some of us also have heard of it by split testing ads, where a variation such as a different landing page or keywords in the content of an ad changes to determine which has better engagement with a specific audience segment.
"A" = original ad
"B" = ad variation
The version that gives you the best results is eventually the one you will be conducting a new A/B ad test trial on to optimize your PPC account and increase sales revenue.
Why Is Ad Testing Paramount?
Customer Experience
Data from ad interaction helps you accomplish fine-tuning advertising to your users' preferences to enhance their experience and engagement with your business.
Enhancing Performance
The more consistent you become at incorporating ad testing into your optimization rhythm, the more likely you will increase results from your PPC advertising efforts. Shortening the buying cycle through catering to the needs of every stage of the buyer's journey can take conversion rates to unimaginable heights.
Low-Risk
If you're not a fan of putting too much skin in the game, then you have met your best friend. A/B ad testing is safe to implement because you can always go back to your original ads if the new variants don't pan out. The monetary cost is minimal compared to other strategies that are not backed by testing.
Data Knowledge
Just as we always hear, " we learn from our experiences." Because you cannot possibly possess a preconceived notion of how specific scenarios will turn out, A/B ad testing helps gather valuable data to show you what worked and what didn't from an implemented testing sample.
3 Rules To Follow For PPC Ad Testing
1. Know What PPC Ad Testing You Need And How To Choose?
Single Ad Group Testing
If you test high-value keywords such as branded and top performers, these will benefit from the best ad determined to provide optimal audience engagement.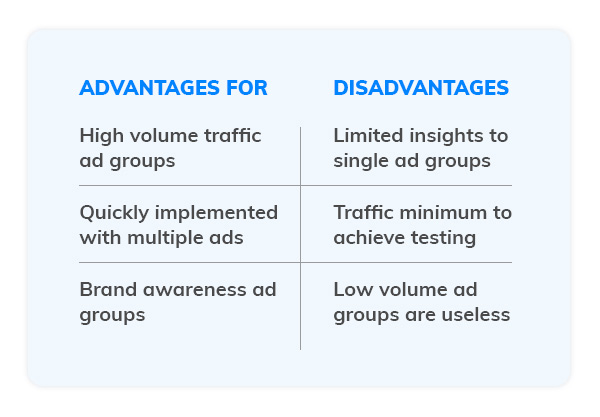 Multi-Ad Group Testing
From a more general overview, testing ideas, templates, and more complex accounts pair best with this type of testing to acquire data that can be applied across the board and not to single ad groups.
2. What Are You Testing?
Knowing what components of an ad you will be testing in your ad variations will steer you in the right direction.
Headline
4-5 words that include a keyword
Descriptions
Match with your meta description to give valuable insights about your service or product
Final URL
Enhance conversion rate by pairing with relevant content from a specific landing page.
Consider using custom-landing pages for further A/B ad testing.
Keywords
Finding the best keyword combinations is beneficial for your conversion rate.
Ads perform better for specific search queries.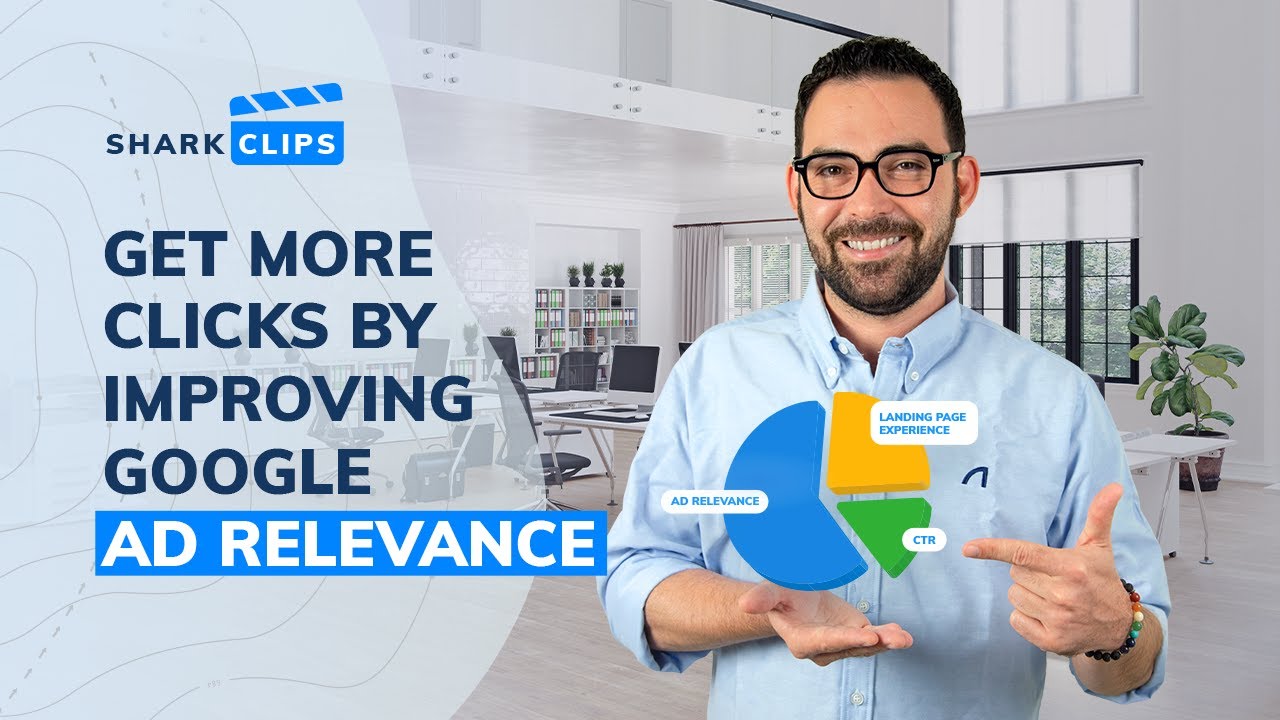 3. It's All About The Metrics
Another essential factor in A/B ad testing is knowing what critical KPIs will indicate good versus poor performance in your tests.
Here are some metrics we like to work with when performing A/B ad testing:
CTR% (click-through-rate)
Quality Score
Conversion rate
Conversion value
Concluding Your A/B Ad Testing
Having a checklist of defined items to ensure you can close the testing phase to take action is important and can make your next strategy in PPC account optimization fairly simple.
How and what you're testing
Defined metrics
Min and max data
Ready, Set, Action
Once you have concluded testing and collected all the information, then it's time to perform the following standard actions:
Continue testing by creating new ads to replace the paused ads
Scrutinizing tested ads for further insight
Best Practices
We are big fans of A/B ad testing and, with our experience, have put together some of the best practices that have brought success to PPC ad testing efforts.
Avoid procrastinating testing and promote its consistency.
Implement all ad testing at the same time to avoid time-based factors that might put results off.
Pace A/B ad test to have better control on what worked and what didn't.
Do not rush testing; give it ample time to collect data that is worth analyzing.
Data doesn't lie, don't test based on hunches.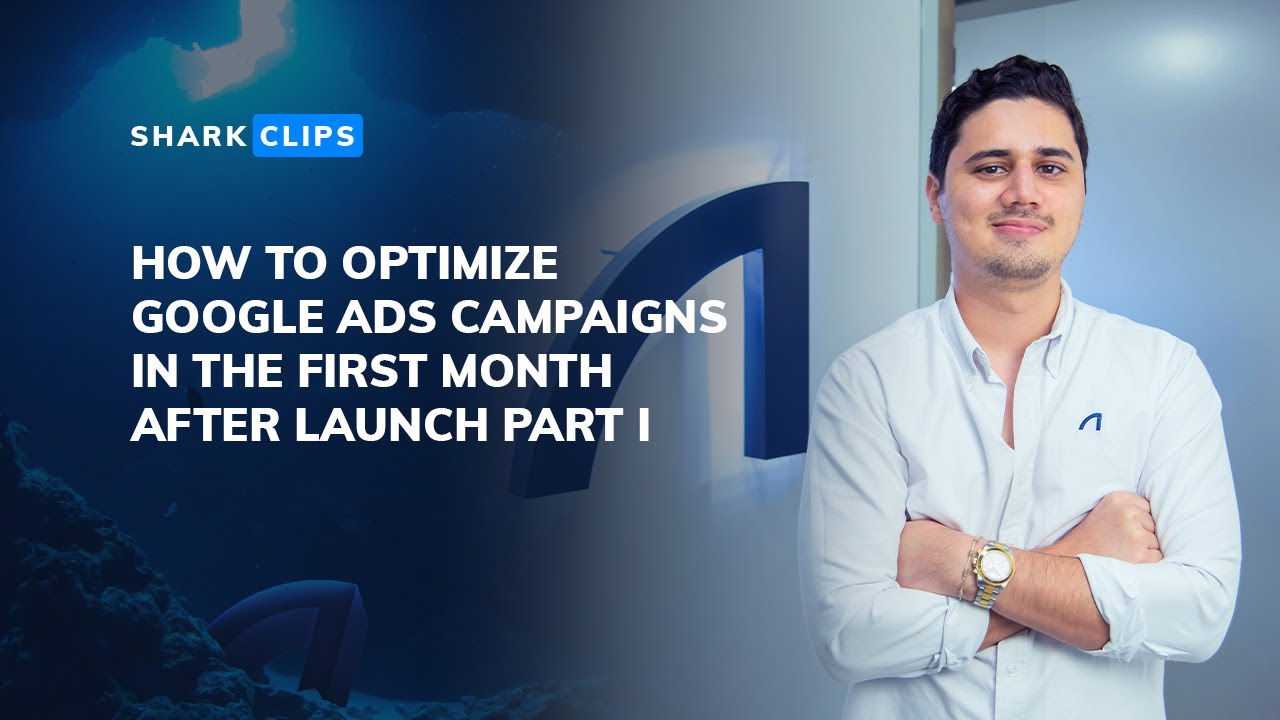 Turn To Expert PPC Ad Testing
Finding time to implement consistent and healthy A/B ad testing can be a challenge, and PPC tools that can help you automate the process can come at a hefty cost.
PPC ad testing is part of a robust PPC strategy that your marketing advertising investment cannot afford to miss out on.
Perhaps we can interest you in a free consultation to see where our PPC management and tools can come in handy in achieving your business goals.