The White Label Marketing Software That'll Boost Your Agency
Antonella Saravia [comments]
4 min read
The rise of digitalization has changed the way we manage our everyday lives. There is an app for every single aspect of life, informing us of our efficiency, doing a portion of the work for us, and helping us push forward with constant reminders of our goals. 
These apps aren't just for our lives, of course. They impact our jobs, too. The right white label marketing software can help us understand what we can do better, take over some of the work for us, and check in on our objectives and next steps. 
The digital tools available to PPC agencies are light years ahead of what the industry offered when we started more than a decade ago. Yes, marketing technology tools are essential to managing accounts, but we now understand the importance of complementary services to strengthen digital marketing agency's business strategies. 
Below is a short list of white label marketing software that help Digital Marketing agencies offer several products such as PPC, SEO, and Social Media. These tools can improve and strengthen digital marketing services, such as PPC, SEO, content marketing, and more. These can be leveraged through a white label partner program and can easily be made your own. Together, they form a balanced set of MarTech tools that will help your life (and agency!) run smoother.
TapClicks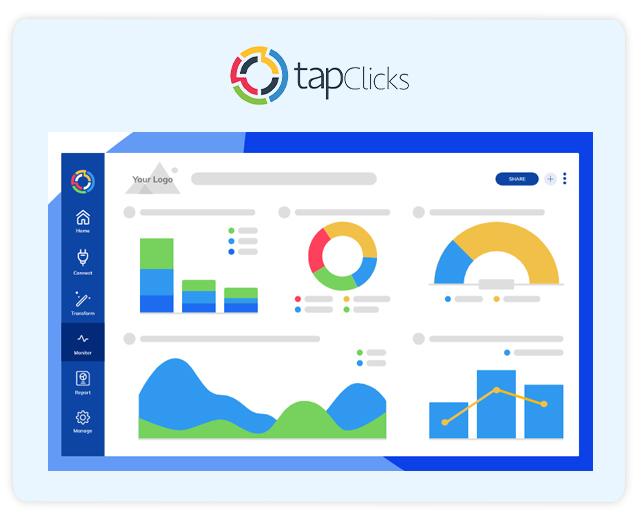 TapClicks uses your data to generate automated marketing solutions designed to work together. This integrated software considers marketing and sales operations to create customized strategies. 
After analyzing marketing workflow, performance analytics, client reporting, and data, the software reports insights into your choice file type. These reports unify marketing efforts and help teams manage priorities, increase revenue, and reduce churn.
TapClicks is ideal for agencies, media companies, brands, and enterprises.
Additional features include:
Monitoring social media and online mentions of your brand in real-time across platforms and languages.

Generating media reports in minutes based on data. These reports will help predict future behavior for smarter strategic planning.

Flagging mentions and brand influencers.
White Shark Media's Compass
White Shark Media's Compass can move your business forward and save time and resources with its PPC tools. Whether you are an agency or company, you can use Compass to reduce the costs of sales training, sales enablement, and PPC sales automation tools.
Entirely customizable for Marketing Agencies, this Sales Enablement Platform provides a complete white label marketing software to sell pay-per-click. It equips teams with the content, guidance, and resources they need to engage buyers effectively. Features included:
Automated PPC Audits
Informs your prospects with actionable insights on both Google and Microsoft platforms. This PPC software generates performance-based recommendations and detailed instructions for implementation. Partners can brand this tool and add it to their website.
Sales Consultations
A thorough consultation with our team of Strategic Account Managers to guide your digital marketing agency through pipeline reviews, proposal walkthroughs, pitch growth strategies, and more. 
Sales & PPC Courses
Train your sales team with in-depth sales courses that help you understand the entire customer life cycle, including prospecting, onboarding, servicing, reporting, upselling, and retaining. You will also learn how to pitch Google Ads and Microsoft Advertising products.
Proposal Engine
Generate white-label proposals that include keyword recommendations, competitor data, ad previews, PPC campaign recommendations, CPCs data, and budget recommendations. 
Collateral Library
Get access to a library of white-labeled vertical trends, playbooks, pitch decks, one-pagers, and videos to share with your prospects.
Partner Portal (PRM)
This platform helps White Shark Media and its partners join forces. The partner portal features performance graphs, proposals, support cases, and reports to track campaign progress, prepare for new opportunities, and close deals.
SEMrush
SEMrush is best known for its SEO capabilities. This complete white label marketing software helps businesses improve online visibility and gather insights. More on SEO and additional features below:
SEO
Manage your SEO by running audits on any site

Research keywords and track your daily rankings

Analyze any competitor's SEO strategy and any domain's backlink profile
Social Media
Create, launch, and manage campaigns on Facebook and Instagram

Analyze competitive social media channels

Optimize your post images and links
Content Marketing
Manage your editorial plan and collaborate with your team

Check your content quality and optimize it in real-time

Track mentions and analyzes your brand presence
Market Research
Analyze any website's traffic

Assess competitor's marketing impact across vehicles

Find and follow market leaders, established players, game changers, and market trends
Make Your Life Easier With White Label Marketing Software
The emergence of simple, innovative white-label marketing software has helped us all juggle more in our everyday lives and workload. The same goes for white label PPC and marketing. The more that is available, the more that we can take on for our clients and our own business. 
Do not limit your success by missing out on the white label marketing software mentioned above. Learn more about each and follow our blog to stay tuned on how to leverage them in your day-to-day PPC campaigns and complementary digital marketing efforts.
STAY CONNECTED WITH THE LATEST INDUSTRY UPDATES